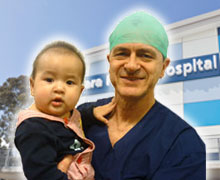 Dr Dunn is a highly experienced Obstetrician, IVF/ Fertility Specialist and Gynaecologist on the Gold Coast, Queensland with over 25 years experience
His patients come to see him from the northen and southern Gold Coast, Brisbane, Northern New South Wales, Sunshine Coast, Sydney, Melbourne, Adelaide, Tasmania, the USA, and various rural locations in Queensland.
Dr Dunn is a kind, caring, genuine, compassionate and honest Doctor. Being a father of two very young children (and planning to expand his family in a very near future), Dr Dunn understands how precious the journey of pregnancy and delivery is and he always ensures that the pregnant women and their families are cared for the way he would care for his family. He always make sure that all the pregnant women and their families always feel safe, comfortable, respected, and listened to at all stages of their pregnancy and delivery when they are in his care.
Dr Dunn graduated from the University of Queensland. Since graduation he has worked at both metropolitan and rural areas in Australia as well as overseas. Before commited 100% in his Private Practice in Benowa in beautiful Gold Coast, Queensland, Dr Dunn has practiced in a diverse range of medicine which enables him to provide excellent and holistic care to all his patients and their families.
A brief overview of Dr Dunn's previous practice locations: Gold Coast Hospital, Royal Brisbane Hospital, Allamanda Private Hospital, Mackay, Emerald, Sunshine Coast, and New Zealand.
A brief overview of Dr Dunn's previous positions: Consultant Obstetrician and Gyneacologist, IVF/Fertility Specialist, Medical Superintendant in 2 hospitals, General Practitioner, an "All Specialties" Doctor in a "One Doctor" hospital, and a University Lecturer.
Among Dr Dunn's previous positions include: Head of a High Risk Pregnancy Clinic, Head of a Heavy Menstrual Loss Clinic, and Head of an Obstetric and Gynaecology Department at a University.
Dr Dunn strongly believes in Evidence-Based Practice. He regularly consults best evidence-based journal articles and works with top Obstetricians, Fertility Specialists, and Gynaecologic Surgeons to ensure that he always provides best outcomes to his patients. His infertility patients often achieve very high rate in a short period of time.
Outside work Dr Dunn enjoys spending time with his young family, running, keeping fit, surfing, and going to the beach.
Tien is a mother of two very young children. Tien's two children were born at Pindara Private Hospital. Tien is an Intensive Care Registered Nurse at Royal Brisbane and Women's Hospital. After graduating from Griffith University she was rewarded a Leader of the Future Scholarship to undertake her Honour degree, which she has partly done and then had to postpone her study to focus on having children. Tien is passionate about research in Nursing, Midwifery, Economic of Health, and Population Health. In the future Tien would like to pursue a career in Critical care, Midwifery, Theatre, Teaching, and Research.
Tien's major role in our Practice is to make sure that all our Patients receive the best possible cares and services. She is a great patient advocate and always volunteers her time to coordinate with other Doctors, health Practitioners, and health care facilities and authorities to assist our patients to achieve the best health and wellbeing outcomes.
Prior to nursing, Tien worked in Tourism and Hospitality industry. She used to run hotels, travel agencies, and Tourism and Hospitality Vocational schools. Tien completed a Master degree in International Tourism and Hospitality Management at Griffith University.
Tien enjoys spending free time with her family, cooking, reading, going out with friends, going to the cinema and theatre, and participating in philanthropic activities.