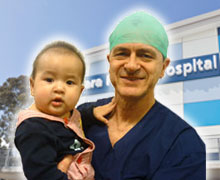 Dr Dunn is a highly experienced Obstetrician, Gynaecologist, IVF/ Fertility and Endometriosis Specialist, and Advanced Laparoscopic Surgeon on the Gold Coast, Queensland with over 25 years' experience.
After graduating from the University of Queensland, Dr Dunn completed his residency at the Royal Brisbane and Women's Hospital and Gold Coast Hospital. He then completed his specialty training in obstetrics and gynaecology and became a member of the Royal Australian and New Zealand College of Obstetricians and Gynaecologists.
Dr Dunn spent seven years in rural and remote medical practice in Queensland, including four years as a medical superintendent of country hospitals. He spent four years training in a tertiary obstetrics hospital and working as head of a high-risk obstetrics unit. Dr Dunn also worked as a university lecturer and course convener in Obstetrics and Gynaecology at the University of Otago, New Zealand, for several years
Dr Dunn's Obstetric patients are extremely happy with him as he is highly experienced with both high-risk and low-risk cases, very caring and compassionate, being available 24/7 over telephone for any enquiries, and especially being available to deliver his own patients 7 days a week.
With regards to his surgical skills, Dr Dunn has excellent Laparoscopic skills in extremely difficult cases such as Endometriosis, Hysterectomy, and removal of large fibroids and cysts. His patients have one of the highest surgical outcomes and lowest complication rates. He also offers excellent post operative care and continuity of care for all his patients.
Dr Dunn has continued to offer some of the highest pregnancy rates among his Fertility and IVF patients nationally. Dr Dunn's patients are always offered several non-IVF options to conceive before embarking on IVF treatment option to ensure they spend the least amount of money and achieve the best possible outcomes. At least 75% of Dr Dunn's patients fall pregnant naturally after his treatment, especially Endometriosis surgery.
More than 85% of his patients come from word-of-mouth referrals. A considerable number of Dr Dunn's patients and fertility patients come from the southern Gold Coast, New South Wales, Brisbane, Melbourne, Darwin, Western Australia, the Sunshine Coast and overseas.
Dr Dunn provides services in: Pregnancy care and delivery in low-risk and high-risk pregnancies, Endometriosis treatment, IVF and Infertility treatment for males and females, Women's health, Reproductive surgery, Advanced Laparoscopic Surgery such as Hysterectomy and Laparoscopic removal of Fibroids and Cysts, Mirena insertion and removal, treatment of abnormal Pap smear, and regular health check-up.
To arrange an appointment with Dr Dunn please call (07) 5564 9359 or email reception@dunnobgyn.com.au