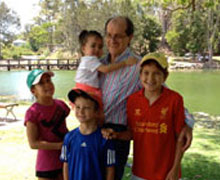 Dr Dunn is a father of two very young children, and he is eager to expand his family soon.
Being a father he understands how special the process from conception, pregnancy to delivery of babies is and he cares for all pregnant women and their families the way he would care for his own family, with love, compassion, and excellence.
All pregnant women can feel that they are in safe hands when in Dr Dunn's care, thanks to his extensive experience in pregnancy care, pregnancy ultrasound, and both low risk and high risk pregnancy management.
Dr Dunn provides the following Obstetric Services:
Pre-conception assessment
Antenatal Care and Delivery
Dating Scan
Low risk pregnancy care
High risk pregnancy care
Vaginal birth post C-section deliveries
Care for Ectopic Pregnancy and Multiple Pregnancy
Rececurrent Miscarriages
Management of conditions such as

Gestational Diabetics
Pre-eclampsia
Morning Sickness
Placenta Previa
Bleeding during pregnancy
Pain
Cervical Incompetence
and other complications

Post-natal care and support.
Benefits for patients:
Generous time at each antenatal visit with Dr Dunn
Ultrasound with 3D capacity performed at each visit, and baby images can be emailed at patient's request.
24/7 phone support from Dr Dunn for all pregnant ladies and their families
Very affordable fees
During the pregnancy care period, if a woman has any problem, all she have to do is call our practice and Dr Dunn will see them straight away.
We treat pregnant women with top priority.
Exceptional post-natal support